Read the 2022 NFFS Annual Report
Date posted
February 7, 2023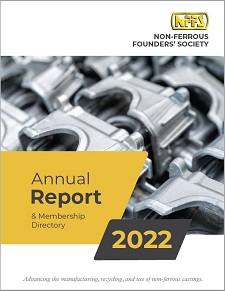 The Non-Ferrous Founders' Society recently released its 2022 Annual Report, which contains a summary of the highlights and accomplishments from the past calendar year. To read the full report, click here.
Inside the 2022 Annual Report you will find:
A message from 2022 NFFS president Andrew Iannettoni of Ford Meter Box;
A list of the top highlights of 2022, including several new member programs and offerings;
A copy of the Society's financial reports and notable financial accomplishments
NFFS membership statistics and results of the annual member survey;
The major advocacy activities of the NFFS Government Affairs Committee;
The latest accomplishments and activities related to the Society's Integrated Casting Order Network (ICON) program;
A summary of the events held in 2022;
A profile of the 2022 NFFS Scholarship award winner, Mitch Millner of the University of Wisconsin-Platteville;
A list of the members of the 2022 NFFS Board of Directors and the NFFS operating committees;
A directory of all NFFS member companies during the 2022 calendar year.