Integrated Casting Order Network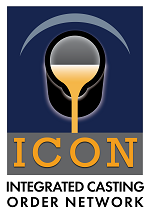 The Integrated Casting Order Network (ICON) is a web-based resource that simplifies the procurement process for cast parts for the Defense Logistics Agency (DLA), the procurement agency for the Department of Defense, by leveraging the integration of:
1 - A tooling database that cataloged the location of existing defense-related patterns,
2 - A casting supplier database of those foundries that manufacture parts for the defense industry, and
3 - A solicitation review process to quickly identify government procurements for cast components and direct them to capable metal casting facilities.
Since 2018, 14,182 contracts worth $342 million were awarded to foundries and machine shops who use ICON to identify business opportunities.
To access the ICON program go to icon.nffs.org or click the button below:
NOTE: ICON website requires separate login credentials from nffs.org. To obtain an ICON login, REGISTER HERE.
To learn more about the ICON program and how it drives value to the Defense Logistics Agency by providing innovative procurement solutions for defense and military related metal castings, watch the following video featuring Mike Chiero, CEO of the Valor Group LLC as he discusses the ICON program.
WINNER OF THE 2020 DMTAA AWARD!
In 2020, the ICON program was chosen by the Defense Logistics Agency to receive the prestigious Defense Manufacturing Technology Achievement Award (DMTAA). The competitive award recognizes individuals in private sector or government with achievements that further the vision of the Department of Defense Manufacturing Technology (ManTech) Program.
The capabilities of ICON continue to expand and grow in scope. For a summary of the program's features, see below. For more information about ICON, visit icon.nffs.org or contact Sheila Rayburn, ICON Program Manager, at (847) 299-0950 or sheila@nffs.org.


ICON Features
Receive Daily Sales Opportunities
ICON provides daily email notifications for open solicitations that meet your material and process capabilities, or your existing tooling, based on your own customizable "bid match" settings for your foundry. The only current eligibility requirement for suppliers to be listed and receive potential business opportunities is that the supplier either currently serves the DoD or has an interest in becoming a supplier in the DoD space.
Set Your Tooling and Supplier Capabilities
ICON is the nation's authoritative source for defense and military foundry tooling records, providing visibility on more than 34,000 tooling records. Quickly identify if foundry tooling exists for specific National Industry Identification Numbers (NIIN) and where it is located. If no tooling exists, use our comprehensive supplier capability database to identify a foundry or machine shop capable of manufacturing your item based upon material and process requirements.
Contract Management
The ICON Contract Management feature gives participants the ability to submit quotations via ICON's unique Quotation Management System (QMS) directly to the DLA Internet Bid Board (DIBBS). The interactive contract features save time and eliminate mistakes. Users can create purchase orders (POs) with the push of a button and/or recall vendor pricing from the database. In addition, users can manage and search procurement history on the entire PO in a single database, including researching, reprinting, and/or re-issuing old purchase orders. Receive and reject orders directly in ICON using the QMS.
Search Procurement History
Searches by National and NATO Stock Number (NSN), Federal Supply Class (FSC), Commercial and Government Entity (CAGE) code, description, technical characteristics, NAICS, and more. Build competitive proposals around past procurement price history and win that award!
Inventory Management
ICON will manage and allow buyers to locate item inventory, provide the supplier details associated with the location of that NSN cast component and/or completely assembled item. Once identified, the item can be purchased directly from the supplier.
Messaging
Communicate directly with other suppliers, upload documentation, and complete a quoting process on orders as part of the prime business opportunity.
Download the ICON Brochure (PDF)


Getting Started
Where can I go for information about...?
Obtaining a valid CAGE (Commercial and Government Entity) code?
Register at www.sam.gov (Note: You do NOT need a CAGE code to register in ICON! A CAGE code IS required to be a prime on a government contract.)
Obtaining and downloading Technical Data Packages?
Register at the DLA's Product Data Management Initiative (PDMI) website, cFolders, at: https://pcf1x.bsm.dla.mil/cfolders/
Submitting proposals for casting solicitations?
Register at the DLA Internet Bid Board (DIBBS) website: https://www.dibbs.bsm.dla.gov
Signing up to participate in the ICON program?
Register for ICON at icon.nffs.org


ICON Success Stories
---
The Integrated Casting Order Network (ICON) is sponsored by Defense Logistics Agency-Troop Support (Philadelphia, PA) and Defense Logistics Agency-Information Operations, J68, Research & Development (Ft. Belvoir, VA).