2023 Metalcasting Congress recap and raffle winners
As a leading trade association for non-ferrous foundries and their suppliers, the Non-Ferrous Founders' Society was pleased to participate in the American Foundry Society's 2023 Metalcasting Congress conference, which took place from April 25-27, 2023 in Cleveland. We had the opportunity to connect with current and future industry professionals, educate industry representatives about the features and benefits of our ICON program, and showcase the Society's programs and services for members and for the larger industry. Here are the highlights from this year's event:
NFFS Exhibit Booth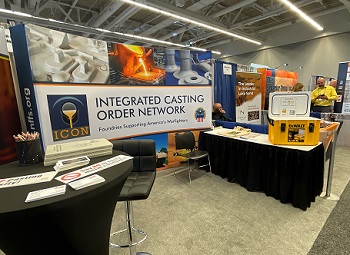 We'd like to take this opportunity to extend a heartfelt "thank you" to all those who stopped by our booth in the exhibit hall. Many of you signed up to receive the weekly NFFS news brief, The Crucible, and we hope you find this to be a helpful resource to help you stay informed about the Society, the industry, and other important factors affecting your business. If you spoke with one of our team members, we will be in touch soon to determine if there is anything we can do to help you manage and grow your business.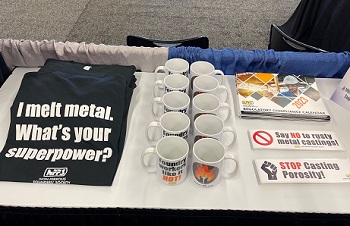 We were also pleased to provide those who stopped by our booth with our popular giveaways, including t-shirts, coffee mugs, cloth bags and bumper stickers. For those who were not at Metalcasting Congress or didn't make it to the NFFS booth, these fun, foundry-themed items are now available to purchase through the online NFFS store at www.nffs.org/store. What a perfect "thank you" for a member of your team!
ICON Program Session
On Wednesday morning, NFFS Executive Director Jerrod Weaver led a session in the conference's Marketing track about the Non-Ferrous Founders' Society's Integrated Casting Order Network (ICON) program. Jerrod provided valuable insights into how ICON can help drive new business to domestic foundries and machine shops, streamline the casting order process for the Department of Defense, improve communication between suppliers and manufacturers, and reduce costs and lead times for critical parts. We would like to extend a special thank you to those who attended the presentation, and we look forward to bringing you on board into the ICON program over the coming days. If you have questions about ICON, please contact our ICON Program Manager, Sheila Rayburn, at sheila@nffs.org.
Industry Networking Reception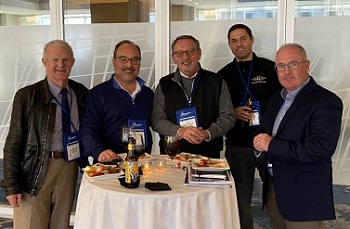 One of the highlights of our time at the conference was the NFFS Industry Networking Reception, which took place on Wednesday evening at the elegant Hilton Cleveland Downtown. This event was generously sponsored by Beck Aluminum and Grainger, and provided a wonderful opportunity for industry professionals to connect with one another in a relaxed and informal setting. The reception was attended by a variety of non-ferrous foundry leaders, industry suppliers and service providers, and foundry educators and students. We were thrilled to see so many attendees taking advantage of this unique opportunity to network and make new connections.
Door Prize and Raffle Winners!
Attendees of the Industry Networking Reception were entered to win one of four door prizes provided by the event sponsor Grainger: two large IGLOO coolers, a DeWalt Cordless Combination Kit and Drill, and a $100 Amazon gift card. Congratulations to the following door prize winners!
Jacob O'Dell, University of Northern Iowa
Jacob Johnson, University of Northern Iowa
Josh Kowalsky, University of Northern Iowa
Matt Kramer, Cottingham & Butler
Additionally, visitors to the NFFS exhibit booth and new subscribers to the NFFS newsletter were entered to win a DeWalt ToughSystem® Cooler. Congratulations to Andy Pinsky of Holland Manufacturing Corporation for being the lucky winner of this popular prize!
NFFS would like to once again thank everyone who visited the NFFS booth, attended the session on ICON, or joined us for the Industry Networking Reception, and we look forward to opportunity to connect with the non-ferrous foundry community once again at next year's 2024 Metalcasting Congress in Milwaukee.