Health & Safety Topic of the Month: Managing Empty Aerosol Cans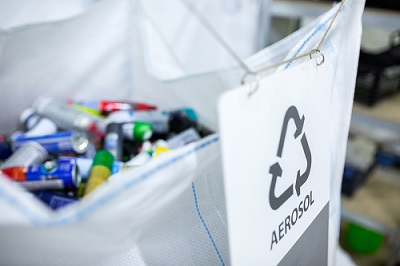 The way that you manage your aerosol cans may determine if they are hazardous waste or not. Aerosol cans containing chemicals that are hazardous waste when disposed of ARE hazardous waste unless the can is:
Punctured,
Drained (so that it is empty of its contents), or
Sent offsite as scrap and not as waste.
The EPA has outlined its interpretation on this matter and has stated that a steel aerosol can that does not contain a significant amount of liquid (this means a can that has been punctured and drained) would meet the definition of scrap metal (§261.1 (c) (6)), and, would be exempt from regulation under §261.6(a)(3)(ii) if it is to be recycled (Letter, Shapiro to Campbell; January 4, 1994 (RCRA Online #11806)).
PLEASE NOTE: Empty cans cannot be sent out as 'garbage' or waste, but must be sent out for recycling as scrap metal. Scrap metal that is recycled is exempt from RCRA regulation under this provision even if it is a hazardous waste. Scrap metal that is not recycled, however, is subject to the hazardous waste regulations if it is hazardous (Letter, Cotsworth to Nebrich; May 19, 1997 (RCRA Online #14235)).
If you decide to send the can out as waste and NOT as scrap metal and either the can or its contents is a hazardous waste, it must be managed under all applicable RCRA Subtitle C regulations (Letter, Denit to Crawford; October 7, 1993 (RCRA Online #11782)). In order to dispose of an aerosol can at a non-hazardous waste landfill, a generator would have to determine that the can is empty under 40 CFR §261.7 or that BOTH the can itself and the product it contains are not hazardous.
HOW can you safely puncture and empty your cans?
There are several manufacturers of systems that are used for this purpose. These systems are designed to be mounted on the top of an empty 55 gallon drum. The drum is used to collect any of the contents of the can. Be sure to properly handle the emptied contents of these cans. These systems are not expensive, and have been widely used in industry. (You can find them online by searching for "aerosol can puncture system.")