NFFS Awards 2022 NFFS Scholarship to Mitch Millner of UW-Platteville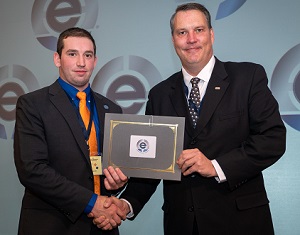 On November 18th, NFFS Executive Director Jerrod Weaver awarded the 2022 NFFS Scholarship to Mitch Millner of University of Wisconsin-Platteville. The $2,500 scholarship was presented during the Foundry Educational Foundation's 2022 College Industry Conference Awards Luncheon.
Mitch Millner is a senior studying Industrial Technology Management at UW-Platteville and will graduate in December 2022 with a 3.0 GPA. He is currently employed as a Project Engineer at NFFS member foundry Olson Aluminum Castings in Rockford, Illinois, and he previously held internships at Olson and at Ameriquip Corp. He and his teammates won two Casting of The Year 1st places as well as a 1st in the 2022 Cast In Steel Competition. In addition to his academic and work accomplishments, Mitch distinguished himself from other applicants through his exemplary essay documenting his foundry experience and interests, as well as through his experience with aluminum and desire to someday own his own foundry.
In the essay accompanying his scholarship application, Mitch wrote, "Growing up a few miles from an iron foundry, my first impression was that foundries are dirty, smoky, and no place that I would ever want to work at. Today I couldn't feel any more different... I am really interested in the gating designs of castings and the simulation of metal flow to maximize efficiencies and yield, along with how to improve current processes to maximize efficiencies in the foundry as a whole... This scholarship is important to me because it will help pay for my expenses in my last year in school and set me on a good path for the future. I look forward to staying in the metalcasting industry with hopes of owning a foundry some day."
Jerrod Weaver, Executive Director of the Non-Ferrous Founders' Society, stated: "It is never easy to choose from the many deserving students who apply for a NFFS scholarship. NFFS is proud to issue this year's scholarship to Mitch, and we wish him the best of luck in his career."
The NFFS Scholarship program was created to help develop the next generation of foundry leaders and innovators for our industry. By providing meaningful scholarship support to students in engineering, materials science, and manufacturing curricula, NFFS is exposing our nation's best and brightest to the tremendous opportunities available in the non-ferrous metal casting industry.
To learn more about the NFFS Scholarship Program, and to find information about how to apply for future scholarship awards, go to www.nffs.org/scholarship.
To make a contribution to the NFFS Scholarship Fund to support students like Mitch Millner, go to www.nffs.org/donate.