NFFS to Combine Monthly Publications into a Weekly E-Newsletter Beginning in 2023
Date posted
October 6, 2022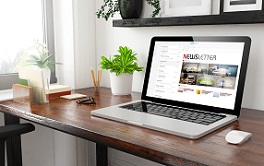 Exciting changes are coming in 2023 for the Non-Ferrous Founders' Society's communications!
For the last several years, NFFS has communicated to members and the broader industry via three monthly publications: our member newsletter, NFFS Notes, the larger foundry industry newsletter, Industry Insider, and the economic newsletter published by ITR Economics for NFFS members, Economic Advisor.
Beginning in January, NFFS will combine the content from these three monthly publications into a weekly e-newsletter, allowing NFFS to better deliver timely, relevant news and information to your inbox on a regular basis. In addition to the content previously published in the monthly newsletters, the new weekly e-newsletter will include links to additional content published through other sources. This content will be strategically sourced using a combination of artificial intelligence (AI) technology and identification by the NFFS staff, to ensure that the newsletter contains articles that are of high quality and that are relevant to the foundry industry.
This new weekly publication will be called The Crucible, in a salute to the Society's history. Members who were with NFFS prior to 2017 may recall this as the name of the Society's print magazine, which was discontinued several years ago as technology continued to evolve how we communicate and do business. In addition, the crucible continues to be an appropriate metaphor for the role the NFFS aims to play for its members—first, as an important element in the day-to-day running of the foundry, and second, as a source that is "pouring" news and information directly into your inbox!
If you currently subscribe to any of the three monthly NFFS publications, you will automatically be added to the distribution list for The Crucible e-newsletter. You can of course choose to opt out at any time by editing your communication preferences in your NFFS account. All issues of The Crucible newsletter will be archived online for easy searching and reference.