NFFS 2022 Industry Executive Conference
Exhibits
Tabletop Exhibits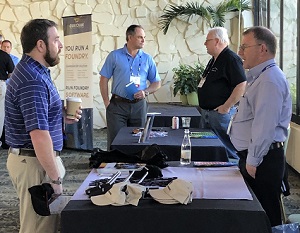 Discovering new technologies and innovative approaches is essential for your business to remain competitive. Who better to learn from than the subject-matter experts representing those vendor companies? Visit with these thought-leaders, and turn them into friends and allies for your business! The NFFS 2022 Industry Executive Conference once again includes the important tabletop exhibition to help foundries identify new products, services and suppliers to help them remain up-to-date regarding technological developments within our industry. As always, the schedule allows ample opportunity for networking between exhibitors and attendees.
View Current Exhibit Hall Map Tabletop Exhibit Registration

Exhibit Hours
Sunday, October 15, 2022, 7:00 – 8:00 a.m.
Sunday, October 15, 2022, 10:00 – 10:30 a.m.
Monday, October 16, 2022, 7:00 – 8:00 a.m.
Monday, October 16, 2022, 10:00 – 10:30 a.m.
Exhibit hours from 7-8 a.m. coincide with breakfast, which takes place in the exhibit hall. 10-10:30 a.m. exhibit hours coincide with the coffee break in the exhibit hall.


About Exhibiting
NFFS Associate members receive a FREE tabletop exhibit space. Non-members who wish to exhibit should first join as an Associate Member to qualify for this benefit. (If you do NOT wish to join as a member, you may simply pay the equivalent of one year of membership dues—$1,350—to purchase a tabletop space. To do so, contact NFFS at (847) 299-0950.)
A Tabletop Exhibit Registration includes:
one 6-ft. x 30-in. draped table with two chairs,
access to two (2) free Exhibitor-Only registrations,
breakfast for up to two exhibit personnel, and
your company listed as an exhibitor in promotional and on-site conference materials.
Tabletop Exhibit Registration Rates
FREE for NFFS Associate Members,
$1,350 for non-members (includes one-year NFFS Associate Membership)
Registration Deadline: September 1st (subject to space and availability after this date)
NOTE: The Tabletop Exhibit registration only reserves your table—exhibitors should also register all attendees. There is an Exhibit Only attendee option to register at no additional charge. However, for the maximum return on your Industry Executive Conference experience, NFFS encourages exhibitors to consider attending the full conference if they are able. A full conference registration allows your employees to attend the education sessions, evening social events, and NFFS Annual Meeting along with the event's foundry attendees.
Cancellation Policy: NFFS will offer 100% refunds on registration fees through September 1, 2022. We will offer 50% refund from September 1 - October 7. No refunds will be provided for cancellations received after October 7.
---
Important Information for Exhibitors
Exhibit setup will take place on Saturday, October 14, 2022, from 1-4 p.m.
Pop-up and backdrop displays are permitted.
Electric service is available for a fee of $150 (includes both days), to be invoiced following Exhibit Registration.
Exhibit spaces are limited to one tabletop per company.
CLICK HERE to download detailed shipping instructions for exhibit supplies.