Health & Safety Topic of the Month: Important OSHA Interpretations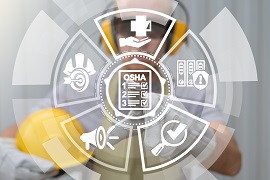 Regulations applied to the foundry industry have resulted in exemptions and interpretations that may affect your facility!
Determination of a Permit Required Confined Space when working on the bag section of a dust collector. The bag section for most foundries is NOT a permit required confined space, but be SURE you have completed the decision tree or evaluation to establish this fact.
Need for safety latches on hooks used for lifting. There are exemptions for chains and hooks used to wrap around an object (such as to lift a mold) and hooks used to lift hot metals. Be sure you know these exemptions since they are not applicable to all industries.
Fall protection and hot metal work. The need for guard rails for elevated pouring platforms may NOT apply to your foundry during pouring operations. This is a long standing exemption that may not be understood by all OSHA agents.
Sand accumulation and safe walkways. Housekeeping rules requiring that all sand accumulation be cleaned up rapidly may not apply to all work areas, BUT the accumulation of sand on the floor or surfaces can certainly add to the potential of airborne silica that may result in employee exposures above the Permissible Exposure Limit (PEL).
Noise standards. Enforcement in this area has been emphasized for foundries in a number of areas across the country. The requirement for Engineering Controls in areas where noise is above the allowable limits has been clarified by OSHA and provides limits on when such controls are required in the foundry. OSHA guidance to compliance officers on noise dictates the need for an effective Hearing Conservation Program and for noise levels that average below 100 dbA, as shown in the enforcement guidance below:
Citations for violations of §1910.95(b)(1) shall be issued when technologically and economically feasible engineering and/or administrative controls have not been implemented; and

Employee exposure levels are so elevated that hearing protectors alone may not reliably reduce noise levels received to levels specified in Tables G-16 or G-16a of the standard. (e.g., Hearing protectors which offer the greatest attenuation may reliably be used to protect employees when their exposure levels border on 100 dba). See CPL 02-02-035, 29 CFR 1910.95 (b)(1), Guidelines for Noise Enforcement; Appendix A, dated December 19, 1983; or
The costs of engineering and/or administrative controls are less than the cost of an effective hearing conservation program.